One of the joys of having a place in the Keys is that it enables us to spend time with people we love. We set this little web page up after we enjoyed a winter's worth of experience with friends and family, who cheerfully helped us settle in and see what works for everybody. We hope you find it helpful.

Let's get some of the details out of the way.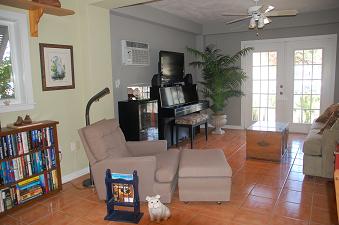 1. The address is 212 Mohawk St., Tavernier, Florida 33070. We're at about MM 89, just south of Key Largo. Right away, that tells you that you are 89 miles away from MM 0 in Key West and about 20 miles south of your entry into the Keys. 'Bout an hour and a half from MIA, FLL, and the Port of Miami.

2. We do have Wi-Fi, but it doesn't work particularly well downstairs. I keep an Ethernet "Sling" so that you can make good, reliable hardwired connections to the web for your email and browsing. (You can always trudge upstairs, too.)

3. Throughout the winter months, you'll have great access to satellite TV on a big flat-screen LCD. If you're coming at any other time, though, it is likely to be in "vacation" mode. (But did you really come to the Keys to watch TV?)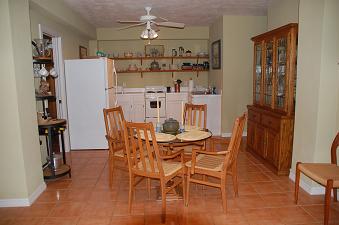 4. The physical layout is pretty simple: You'll occupy a one bedroom downstairs apartment with two private entrances, a full kitchen, lots of closet space, a nice dining area, a comfortable living area with a new sleeper couch, and a bathroom. Almost everything is new, right down to the pots and pans. You'll have a giant new refrigerator, a nice oven . . . everything but a dishwasher. We have a new washer and dryer, too. Everything has been freshly painted, and the furniture is new, with one or two exceptions. You will sleep on a great memory-foam mattress, and the apartment is really quiet. We supply kayaks and bikes, too. Even a piano. And a bugle. Tambourines. Excellent stereo. A DVD player. Exercise DVDs. Poker chips. . .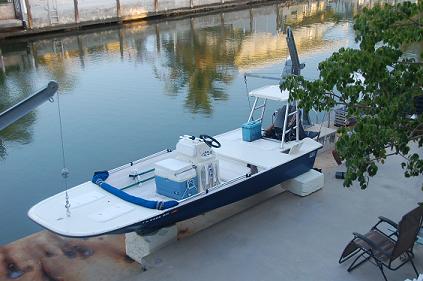 There are a few "rules of the road" (of course).

1. No smoking. Ever. Not anyplace on the property.

2. We prefer that our guests have their own vehicle.

3. We like it when our guests have an agenda . . . places they'd like to see, places they'd like to go on their own. Having guests gaze expectantly into our eyes over morning coffee asking, "What are we going to do today" makes us entertainment directors, something we don't relish. Don't worry; we'll have plenty of time together. But we don't want you to feel obligated to spend every waking minute with us, and we don't want to feel obligated to entertain you every day. Sometimes, we like our privacy. So do you, I bet. We also find that most of our guests want to zoom down to Key West for a day. Great! But I don't want to visit Key Weird every week. Too far. Too drunk: can't resist Sloppy Joe's (which actually has a bartender named "Beaver").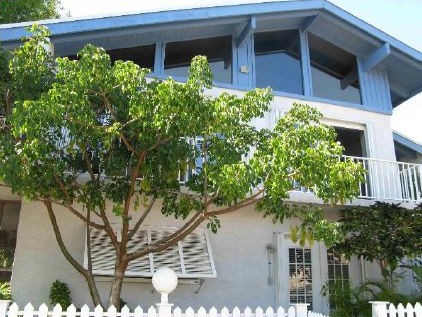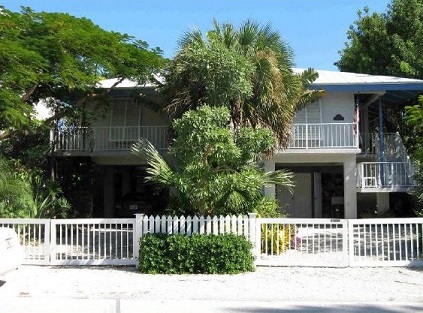 4. We get lots of folks visiting us, which we love. We are not, however, a maid service. Leave the place the way you found it! We have plenty of cleaning supplies, a big washer and dryer for your sheets and towels . . . everything you'll need to make the next guest feel as comfortable and clean as you did when you arrived. (I actually had one guest express his displeasure at this idea, complaining that it ran counter to his ideas of southern hospitality. Don't worry, you won't have to clean up for him; he won't be back.)
5. No pets. Unruly or destructive children fall into this category. We used to provide cages for them, but the neighbors objected.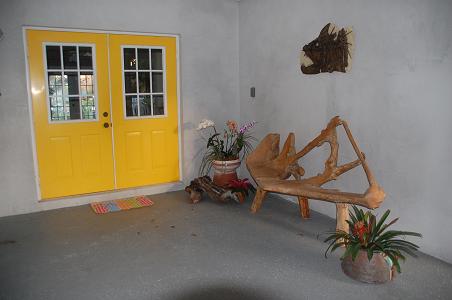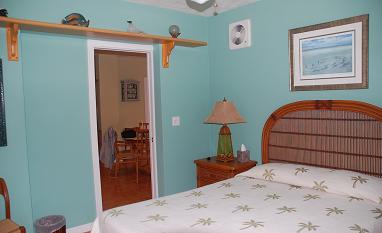 There are a lot of great things to do. Or, just lay up like a lizard.
Key West Key Largo Islamorada (Where we are)
A great beach, good food, good bar
Another great beach, great food, service, drinks. . . first rate
Best sunsets Morada Bay restaurant
Good bar, good eats, great view
Good restaurant by boat
Swim with dolphins, rays, sharks Nearby diving museum
There are also a ton to things to see and do in nearby Miami, the Everglades, Ft. Lauderdale, Big Cypress . . . the list is endless. The fishing is as good as it gets, the diving is world-famous, the nightlife is tempting (to say the least), the dining is superb, featuring mouth-watering seafood so fresh it's still quivering, the views are spectacular, and . . . well, you get the idea.
It'll sure be nice to see you. Let's hope for great weather.



Lee and Andrea